Youth Bridge Foundation, Ghana's leading youth-focused organization in line with the Africa Youth Charter has been championing the African youth in leadership agenda through the African Youth and Governance Convergence (AYGC). For 13 consecutive years, the foundation has set the pace to foster a connected African youth, achieving a great deal of success with anglophone, francophone, Diaspora, and in recent times with lusophone Africa with the support of Open Society Foundation. The AYGC is an annual programme for year-round leadership development.
The 14th African Youth and Governance Convergence (AYGC) was hosted in Lusaka, Zambia, from the 8th to 13th of August 2022 at Mulungushi International Conference Centre. This year's theme was 'Harnessing Technology and Digital Innovation to advance Africa's Youth Development Agenda'. This year's event brought together 42 youth delegates from 42 countries to join in deliberations in addressing the existing governance issues faced in their respective countries.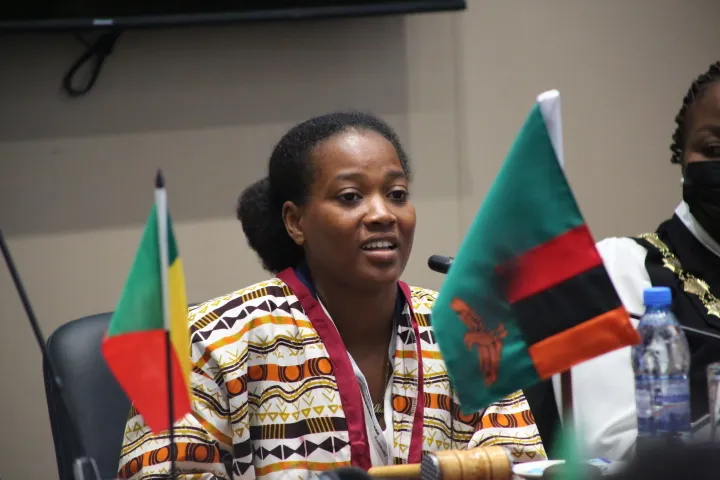 President of AYGC, Aissatou Bellah Bah from Guinea Conakry and invited youth delegates. Photo credit: ZGF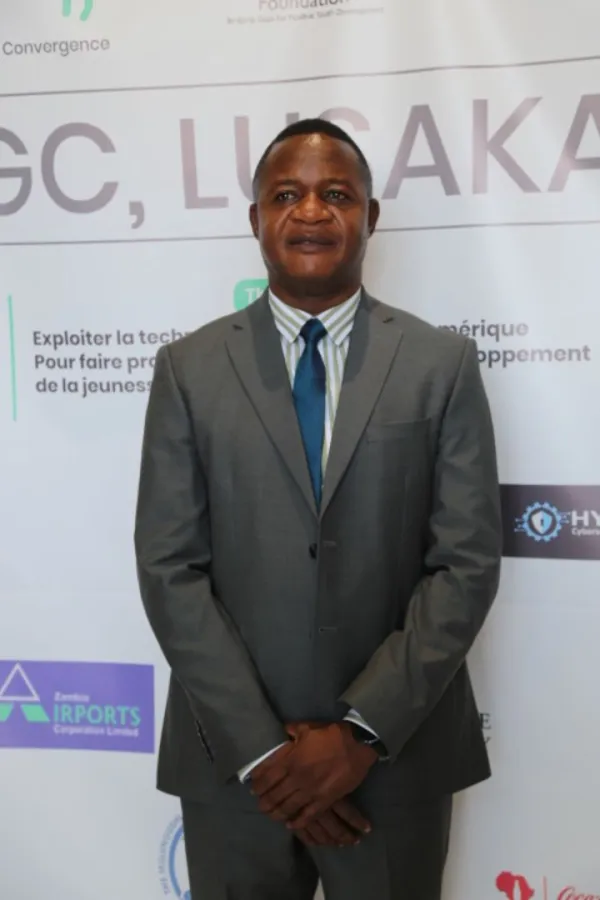 The Zambian Minister of Youth, Sports and Arts, Hon. Elvis Nkandu graced the occasion as the guest honour. He welcomed the delegates from other countries and asked them to take a tour of other parts of Zambia and not just end their stay in Lusaka. In his speech, he referred to the Bemba proverb that says, "Umwana ashenda atasha nina ukunaya" [English: "A child who doesn't travel only appreciates the mother's cooking"]. This means that the youth need to master the art of networking to be exposed in order for them to gain the necessary skills that can be utilised to improve their communities.
"There is nothing for us, without us. Meaning everything that we bring to you, you must participate and not just be spectators."

Hon. Elvis Nkandu
Zambian Minister of Youth, Sports, and Arts
For three days, the delegates were grouped into seven committees: Environment, Education, Governance and Leadership, Gender Inclusion, Agriculture and Food Security, and Health and Entrepreneurship. The groups were tasked to work on motions for resolutions to be presented at the General Assembly on the last day of the meeting. During the submission of the motion for resolution to the General Assembly, the delegates presented the following;
Gravely concerned that Africa faces serious environmental challenges, including land degradation, deforestation, biodiversity loss, and extreme vulnerability to climate change.
Deeply concerned that, according to Organization for Economic Cooperation Development (OECD) only 26% of rural and 47% percent of urban dwellers have access to internet connectivity and digital infrastructure.
Acknowledging the lack of an enabling environment for funding opportunities and access to finance for new developments hinders idealization and process development.
Deeply concerned by the lack of access to information regarding opportunities in the technology and digital space.
Alarmed by high levels of youth unemployment and shortage of skills on the continent.
The committee further submitted a call on African governments to invest in technology infrastructure and the creation of technology and innovation hubs that will allow for more young people to be part of new technological innovations such as renewable energy, drones, Internet of Things (IoT) applications, and Talk to Loop which has enormous potential for leapfrogging technology for environmental sustainability.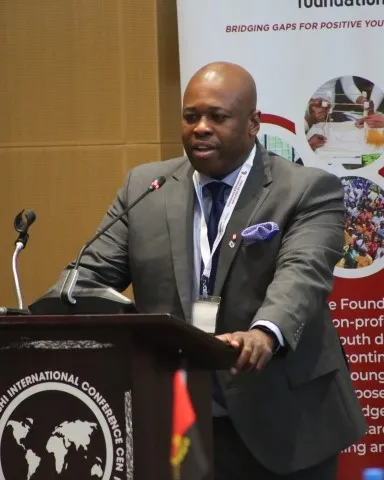 "…in the midst of our challenge we discovered a need to be addressed, which is a digitally skilled youth equipped to fit the demands of our new normal. If Africa's largest and greatest asset – youth are to remain relevant to make impact in their communities and beyond, they must be trained to effectively harness digital innovation to bring solutions to the continent's issues."

Julio De Medeiros, ESQ
Board Secretary & Legal Advisor, YBF
All the submissions from the seven committees mentioned above will be consolidated into a communiqué that will be shared with sponsors, partners, and other stakeholders who have supported this year's event.
For more information on the Africa Youth and Governance Convergence contact Youth Bridge Foundation via email programs@youthbridgefoundation.org